Dear Guitarist,
Do you already "know" a lot about guitar, but wonder why you're still not playing like a pro... and more importantly, why you're not playing WITH the pros?
Would you trade your left pinky toe to be able to play rhythm and lead flawlessly... and easily play any song... any style... any time... with anyone?

Would you love to improve your guitar playing, but you're not sure of the exact steps to take to get the next level... or even what the next level is?

I feel like I'm losing my freakin mind here because I'm watching Matt Heulitt's 3 course set package "The Complete Guitarist"... And I just can't WAIT to get on my guitar and play this stuff. Jeezus, this is BLAZING shit.

Pardon my language, but I'm just too excited to hold back the truth...
And I think you're going to do backflips off your roof too when you sink your chompers into these course. Don't blame me if you get bored with your friends and family as you journey down the road of epic guitarness... stardom... fame and riches.
Just kidding... kind of. Maybe.
I know you're a busy beaver. I'm NOT going to waste your valuable time.
Let's get right into it...
The Complete Guitarist System Makes It
10 Times Easier To Play Flawlessly With Passion
And Authority In 3 Simple Steps.
| | |
| --- | --- |
| | 1. Become a rock solid rhythm guitarist with impeccable timing so you can play all your favorite songs and sound just as good as the record. |
| | 2. Learn to create juicy, tasty riffs and rhythms with interesting chord voicings and slick melodic embellishments. This is what separates you from the pack... puts you into a league of your own... and has your phone ringing off the hook with exciting gig offers. |
| | 3. Play HOT professional sounding leads and solos with rootsy soulful notes and the occasional "wild fretboard acrobatics". Just the perfect blend to impress crowds and musicians without sounding like a jerkoff. |
Here's the bottom line: the odds of you figuring out this stuff on your own is about 1 in 1000. The smart thing is simple: you learn from the guy who trudged into the jungle... fought lions, monkeys and snakes... and found the golden cave of destiny.

The Complete Guitarist system gives you a "GPS" for your fretboard.

These courses (complete with tabs) are a sparkling jewel in our library of guitar courses, because they're not just gonna teach you how to play some blues licks or rock riffs...

Matt's gonna teach you about guitar and music on a deep level, show you some true "missing links", inspire you, give you all his shortcuts, and help make it 10 times easier for you to get to the pro zone.

Guitarist Matthew Charles Heulitt has been a studio ace and music
educator in the San Francisco bay area since 1997. He has performed
and recorded around the world with artists as varied as Sting,
Sammy Hagar, Carlos Santana, Mickey Hart, Vusi Mahlasela,
Keiko Matsui, Taj Mahal, and many more. He's currently a
member of legendary funk drummer Zigaboo Modeliste's
New Aahkesstra, The Narada Michael Walden Band, Magna
Carta art/rock band MoeTar, and a host of other bay-area
bands at any given time... jazz, ska, hip-hop, metal... whatever...
This is why he's DA MAN who can teach you how to become a
"Complete Guitarist". He can literally PLAY ANY STYLE with authority.
As a session player he's the first call guitarist for Grammy-Award
winning producer Narada Michael Walden (Whitney Houston,
Maria Carey, Aretha Franklin) and collaborates often with Bonnie
Hayes (Bonnie Raitt, Cher), Raz Kennedy (Bobby McFerrin, Metallica) and others top producers.
Matthew is also an extremely patient and thorough educator. He's been teaching private lessons for over 20 years, coaching small ensembles and rock bands, giving workshops at the jazz school in Berkeley CA, and posting random vids on youtube of his latest guitaristic expeditions.
This amazing depth of experience makes him the perfect teacher for YOU.
These courses are jam-packed full of powerful lessons... These are things that make you say "woah". It's all the best stuff that Matt discovered in 20 years of teaching that no one really talks about.
The Secret Having A Great Time
With Your Guitar...
How to make your right hand your time-keeper and set yourself apart from other guitarists. NO one wants to play with guitarists who have bad timing. 3:12
How to dramatically boost your rhythm chops even if you just have 15 minutes a day to practice in your busy day. 6:41

You'll understand the importance of movement and distance... and if you love Stevie Ray Vaughan, then watch out. Here's how to channel his soul into your sound by combining his signature single notes with rhythmic approach.
Discover The Most Fail-Proof Singer-Songwriter
Folk Strum Pattern Ever.
Even on odd-time strums, your hand should never really stop moving. Try the "perpetual motion" strumming method that helps you develop muscle memory and mastery in your strumming hand.
Master the Musical Universe... Double time strumming is the key to developing all kinds of complex strum patterns, and you can combine quarter notes, eighth notes, and 16th notes into some juicy strumming epicness. 10:31
The #1 key that boosts your rhythm chops automatically and literally forces your fingers to improve on a daily basis. 14:15
How to use the wah pedal to add a thick layer of "awesome" to your rhythm. 18:24
Create Some Easy And Incredibly Fun
2-Chord Jams That Everyone LOVES.
Have a blast jamming on an endless parade of inspirational riffs. See how at 23:57
They'll call you: FUNK MASTER G BABY! How to skip back and forth between standard and double time strums to get loads of phat funky variations. 27:02
Being a "complete guitarist" means you're the master of the guitar. That's why Matt Heulitt's been on stage with Santana, Sting, Narada, Ziggy Modeliste, even South African musicians.

And that's what Matt brings to the table here -- he's really reached the upper level of getting gigs, and he wants to make it accessible to YOU. Guess what -- you CAN'T make this stuff as you go along... Not if you want to play with the pros.
Here's The Simple Trick For Making
Wicked Loops That Sound Great.
How to create your own loops to jam and practice with. Discover the simple secret to making them sound tight every single time. 33:03
FUNK DECODED: The keys to ultimate funkiness are left-hand control and making it short and punchy. Watch how at: 36:38
How to bounce and pop the strings for another dimension of intricate, interesting rhythms. This is like throwing rainbow sprinkles on your ice cream. 43:52
Save a fortune on a round-the-world ticket, and learn the magic of 6:8 timing, which instantly helps you create exotic world-music patterns. 47:22
Witness some epic jams... how to turbo-boost your chord progressions and flesh out the connective tissue between the chords. Don't even think of jamming again with another musician before learning this 56:01
That's all on the first course folks... Then it gets even more epic with Course 2:
The Life-Or-Death Sonic Secret You Need
To Know Before You Even Attempt To Play
Different Chord Varations And Rhythms.
You'll get a whole system for learning the neck up and down... So you can create your own chordal mojo. 3:58
California gold baby... Get some Red-Hot Chilli Peppers inspired magic. 10:08
How to master the fretboard. Forget what you think you know or what you learned before... This is a whole new ball of wax. Watch at 17:52.
Get out of those boxes buddy! Here's how to crack open new dimensions and think more like a piano player... and make things tremendously more interesting.
Even learn to improve WHILE you're on the gig...This stuff is so powerful, you'll feel like you ingested some magical musical mushrooms. 23:20
Decode "The mystery Of fragments and surrounding notes"... Easily create hypnotic melodic flourishes like Hendrix and Frusciante. 24:53.
CLASSIC JIMI BABY! Burn your standard chord books and add some delicious psychedelic chord voicings that morph "boring crap" into awesome magic. 26:16
Do You Want To Write Your Own Killer Tunes Easily?
Then Try This Little Known Technique That Opens
Up A Huge Musical Kingdom.
If you've ever aspired to write your own tunes, you'll love Matt's method for writing winning riffs. 27:07
How to "strum-lick" the pentatonic scale for some beautiful musical structures that you can jam out all day on. 32:33
How to use the minor6 chord to create amazingly tasteful riffs and jams. It's one of the coolest sounds I've ever heard in my entire guitar playing career. 35:27
More kick-ass techniques to beef up your rhythm playing and create grooves that stomp on amateur playing all day long. 38:00
AFRICAN MADNESS: Afro-beat riffs are great jam material and you can use it any song, even a ballad. 40:17
SUPER FUN DAY: These New Methods And Cool
Chords Will Let You Build Jams That Keep You
In The Fun Zone For Hours And Hours.
Not only will you have a blast watching and learning from these courses, but you can have yourself a ball anytime with these classic jam formulas. 46:05
The keys to great guitar playing are TIMING, ATTITUDE, and knowing where you are on the fretboard. Matt demonstrates 3 ways to master this at 48:16.
The trick to really jamming out is knowing all the chords "in the family" and how to connect them and do different things. 52:27
Use chords as a soloing device, so you can improvise and express yourself even when you're jamming with another guitarist or a band. 58:58
And there's even more guitar goodies in store for you on Course 3:
Advance Simple Pro Trick: How To "Hinge"
Your Solos To The Right Beats So The Phrasing
Sounds Mature And Sophisticated.
Play professional guitar solos using easy phrasing tips and melody creation tactics. 2:15
The secret to playing with passion and confidence -- its a fun game when you can really "milk" the instrument. 7:05
The simplest way to start playing leads that rock. 11:08
Which notes can you bend? Which ones you CAN'T? This makes things super simple but also will give you surprising new sounds. 14:52
INSTANT "B.B.". Watch How Easy It Is
To Sound Like The King Of The Blues.
How to get the lead guitar "magic sound" like Larry Carlton, Steeley Dan, and other fretboard wizards. 26:48
How to create a more intimate relationship with your guitar by learning a variety of unorthodox, sophisticated methods. 34:16
Here's another really fun way to practice scales and modes... it gives you the power to evoke any mood you want, and its fun beyond belief. 42:30
SUPERHERO GUITAR POWERZ... How to get your fingers in superman shape with some killer chromatic licks and exercises. 47:17
Avoid the amateur slop sound with some tight-ass licks, plus how to make your lead guitar playing feel light, effortless, and lightning fast. 52:09
There's a lot more great stuff on these courses I didn't have time to mention, but hopefully you get the idea and understand the awesomeness at stake here :)
I've Yet To Meet The Guitar Enthusiast
Who Could Resist Learning
These Powerful Guitar Secrets.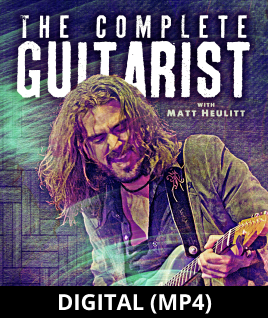 You're gonna love this course. Think of The Complete Guitarist as your roadmap, a compass, and VIP pass to becoming a pro-level guitarist faster than you thought possible.
It's gonna be an exciting experience and all you need to do to make progress, is watch these courses and spend 10 to 15 minutes a day going over the tabs.
With Powertabs, Learning Has
Never Been Easier.
Not only is every note tabbed out for you, but the tabs are also provided in Powertab format so you can watch the notes go by on your computer, and each one is highlighted as its playing.

If you've never experienced this before, it's incredible. No more trying to "figure out" the rhythm of the tabs. You see it, you hear it, and you learn it!

I'm passionate about helping guitarists like you have as much as fun as possible and I'd really love to see you playing all your favorite songs on the guitar.

That's why I'm really excited to send you a copy of Matthew Heulitt's The Complete Guitarist.
...And it's also why I put my neck on the line for you and offer you the best guarantee in the business.
You're Protected By Our Famous
60-Day Money-Back Guarantee.
Guitar Control offers a generous 60-Day guarantee on all Digital courses. We want to make ordering from us an exciting and no-risk experience.
If for some strange reason, Matt's course isn't helping your guitar playing, or you feel you're not learning to take your playing to the pro zone 10 times easier, then by all means... please return the Digital copies for a no-hassle exchange or refund.
No B.S, no run-around, and no hard feelings.

This an amazing opportunity to invest in yourself and your musical education with truly unique guitar lessons that you can watch on a Digital copy anytime you want.
Matt's a real pro, a great instructor, and this course is gonna blow you away. Even if you could hire him for one-on-one lessons, compare how much that would cost you:

Even by Digital Courses standards, these 3 are easily worth $49 EACH...
But you won't pay $150.

You won't even pay $100.

We have several LOW PRICE PACKAGES available.

Just click to the next page, choose the package of your choice, and I'll rush your order right to your door, anywhere in the world.

Don't forget you're getting 3 jam-packed Digital Courses and 28 pages of tabs!

What are you waiting for?

Click the order button below now.

It's a no-brainer decision, so please click on the link below, fill out your information, and you'll soon be the proud owner of The Complete Guitarist learning package that will reward you for a lifetime.
Click Here To Order
The Complete Guitarist
Price Today $77 $59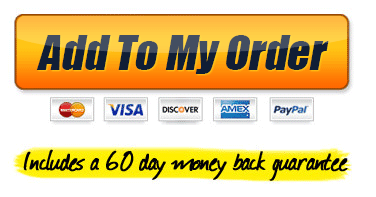 Keep Rockin',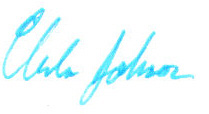 Claude Johnson
P.S. If you're still not 100% sure if you should order right now, let me remind of our sweet early bird bonuses and incredible 60-day guarantee. Don't delay, click here to order right now!