"Learn The 4 Big Secrets To
Epic Rhythm Guitar Power"
Dear Guitarist,

I'm about to share 4 secrets that you can use to become a great rhyhtm guitar player, but first let me ask you:
"Read this letter and learn
the 4 big secrets to
epic rhythm guitar power."

Do you want some mega power with your guitar? I'm talking about a style and a sound that blows everyone away including you and your grandma.

Are you ready to learn the real-world tricks and tips of one of rock's most well-respected rhythm guitarists?

What if you could discover some easy and powerful riffs (from some of the all-time greats like James Hetfield, Ritchie Blackmore, Randy Rhoads, and Tony Iommi) that give you a world-class sound almost instantly?

 
Here's the story... Last year I was hanging out at NAMM (the National Association of Music Merchants) and I heard some vicious guitar playing.

I instantly gravitated to it like a fish to water. I was blown away.  The guy's playing was tighter than a nun's you-know-what.   I said "Dude -- we need to film you." Next thing you know, a few months later we're in the studio.

His name is Jack Frost and he's the guitarist in the metal band Seven Witches. He's also played with legends such as Lizzy Borden, Savatage, Joey Belladonna of Anthrax, as well as opening up for Judas Priest.

And let me tell you... not only can this guy play, but he's a ball of energy!

It's Like Anthony Robbins
Meets James Hetfield!

Combine the passion and energy of a world class motivational speaker with the rhythm guitar chops of a rock star, and that's Jack Frost.

We captured every little trick this guy's got in the bag.  And let me tell you... The BAG IS DEEP. And his passion for music and the guitar will really get you pumped and excited.

We filmed some amazing stuff in the studio and its all wrapped-up in one killer set of 3 DVDs called "Epic Rhythm Guitar Power".

Here's what you can expect to learn:  
Big Rhythm Secret #1:
Borrow from the Legends
Want to rock out on the guitar?  One of the easiest ways to do it is to look at what the legends have done and borrow their secrets. No need to reinvent the wheel.

That's one reason why these DVDs are so great.  Jack Frost shows you some of the most powerful, and practical techniques ever on these DVDs.  


I'm talking about seriously easy-to-apply tricks and formulas of the guitar legends that you can start using TODAY to get some amazing sounds from your guitar.

For example...

Let me expose the trick and secrets
of the top rhythm guitarists.

The secrets of the godfathers of Metal Guitar: Tony Iommy and James Hetfield. They use a few unknown secrets that Jack exposes.  Must know stuff for any fan. This is invaluble to know and can make you a monster rhythm player.  12:34  

The 2-string Ritchie Blackmore riffing technique - easy to master and gives great sounds instantly - 20:18

How to create the authentic Van Halen riff sound.  It's a lot easier than you think.

How to create fresh-sounding pull off riffs - another classic trick of Tony Iommi.

Perhaps best of all, you'll discover an easy way to make some incredible sounds based on shapes and patterns you can move up and down the fretboard.

And we're just getting started...



Steal all their best secrets:
Tony Iommi, AC/DC, Ted Nugent,
Metallica, Zeppelin, & Randy Rhoads.

How to get that Led Zeppelin/Bad Company blues-based rock feel - 13:33

How to play scorching riffs like George Lynch 7:30

Ted Nugent... Ritchie Blackmore... and other blues masters use the "upside down power-chords technique".  Frost serves you up a dozen ways to incorporate this in your sound. Great stuff.

AC/DC, Guns N' Roses and Anthrax's classic guitar riffs are exposed. Learning these masters' moves will double your chops immediately.

Jack shows you some of Jimmy Page's and Alice In Chains's coolest (yet simplest methods).   In fact, these DVDs will...
Add Tons of Classic Sounds
To your Arsenal.

Foo Fighters gets exposed as Frost reveals a "hidden" technique that sets up their entire sound.   In fact, it's almost impossible to figure out how to get their sound without watching this DVD.

Capture the epic "Euro-Metal" vibe with a few simple techniques. Plus:



How to create cool Alex Lifeson riffs. This is a trademark of Rush's sonic sound. (24:08)

The original Journey "sus chord riff". It's a killer sound that's easy to recreate, yet its a monster signature technique (17:03)

Learn Randy Rhoads' forgotten tricks and techniques including how to "rip the string" with multiple pull-offs.   Easy to do and it sounds wicked. Throw in a "screaming walk pattern" and you're on fire!

How to get an authoritative, mindblowing Zakk Wylde sound.
Are You a Fan of AC/DC,
Guns-n-Roses, Godsmack, or Metallica?
Dig Slash? Then, you'll go bonkers when you discover the formula he used to write a lot of his riffs.  Pay attention at 16:20

Malcolm Young and Izzy were the "unsung heroes" of AC/DC and Guns-n-Roses. Learn the simple secret that made the foundation of their bands incredible.

How modern bands like Disturbed and Godsmack get that super heavy crunch. The answer is revealed at 36:39.

The Anthrax rhythm pattern. 32:03

Learn some of the most well-kept
secrets of MONSTER rhythm sounds.




Manifesting Metallica style riffs... They are easy to write once you see how Jack takes a simple pattern and moves it around the neck  - 31:22

More 2-string techniques used by everyone from Ted Nugent to Keith Urban.  Must know, practical guitar techniques (24:02)

Create strumming sounds that are truly the bona fide Fleetwood Mac clean tone.

How Marty Friedman and Paul Gilbert spice up their picking - the easy trick is revealed at 32:30.





Big Rhythm Secret #2: Create An
Epic Wall of Sonic Power


Epic rhythm guitar playing is all about creating that "wall of sound". There's a few ways Jack shows how to do this, and they all sound freaking amazing. And you definitely don't need virtuoso chops to do it.  

Learn wild techniques like
chugs, anchor tones and harmonics.




One of the biggest secrets is using "anchor tones".  Seriously, your riffs will become 3 times stronger when you do this.  (See 39:08).

Your tone is important too --  Jack goes beyond deep and shows every secret you can possibly imagine about monster tone: amps, guitars, pickups, pedals, picks and...


How to dial your knobs to create a epic powerful sound that will win the respect of anyone who listens to it (except maybe your Mom & Dad).

"You're going to have a blast! I'm gonna
get you PUMPED, ENERGIZED AND EXCITED!"




Too many newbies butcher their sound with a crappy layer of weird effect settings.  Get the pro sound secrets that Jack uses when he's touring and recording.  It's simple, powerful and effective. Just the kind of stuff you need to get rocking.

And we're not just talking about heavy stuff. In DVD #2, Jack reveals how to create a killer blues tone. Instantly transform your sound from "heavy rock" to "smokin' blues" with 3 little tweaks. It's the kind of pro stuff that will take you 10 years to learn without these DVDs.


And I have to mention one of the coolest things on this DVD: Jack decodes the art of chugging (rhythms not beers, lol) ... It sounds awesome.



Big Rhythm Secret #3:
Master the Right Hand 

Another epic mistake a lot of beginners make is they over-practice with the left hand and they completely ignore the right hand.   

Like Jack says: "Use your right-hand. IT'S YOUR BEST FRIEND."

Van Halen, Gary Moore, Randy Rhoads... They were all masters of the "right hand".

"Use your right hand.
ITS YOUR BEST FRIEND."




Learn some amazing tricks like:


How to do the "open and close bounce pattern" and use palm muting for ultra-tight rhythm sound.  

Want to bring the heavy?  Then watch closely how to do the "bounce, down, down, down" pattern.

How to walk a simple powerchord up and down the neck with a hyped up picking pattern. Playing killer riffs has never been simpler. It's at 37:11 on DVD 2.




Jack reveals how to "choke the pick".   It's a little tweak that makes the difference between sounding like a wall of power vs. sounding like a wimpy guitarist.

Open New Doors of Possibilities
With "Chord Stabs" and
"Harmonics from Hell"

You might already know how to play pinch harmonics. But can you use them to crank out a wild, heavy, grungy vibe? You will after watching Jack show you how to create badass rhythms. (32:45)

The fun continues:

The forgotten finger: THE PINKY makes an epic return inside this DVD. Jack has a few special tricks that makes good use of the pinky.

Dominate with slides -- discover several different types of slides from full-on power-chord slides to melodic slides and crazy wild slides.

You'll be able to dominate on stage
after you watch this DVD.

How to bring some aggressive sonic mixes by using the "ascending rhythm" trick. It really sounds great when writing a song.

Want a new wild technique?  It's called "circle picking". I have to admit, I've never seen this exact method anywhere else.  It's one of Frost's coolest tricks. This is a slick technique you've got to have in your toolbox. 33:28




Want to Make Your Life
10 Times Easier?

Yes, make your life easier by using alternative picking methods. Jack shows some really easy, simple drills that will make you sound like a pro faster than you ever thought possible.

Tight rhythm playing
is a scream!

Like Jack says, "You can't afford to slop it up when you're recording."  His playing is tighter than a drum head, and  He decodes exactly how you can get tight in record time.


Learn how to add some really interesting elements to your clean guitar parts and take them to a whole new dimension. For example, a wild, jazz technique that makes your guitar sound like a symphony.

Want more? We got it:

Extreme speed with "triplet mayhem" -- stab it, chug it and triple it. And BOOM... You've got a wicked formula for an epic guitar riff.

Discover a variety of cool patterns you can use to immediately expand your vocabulary with tons of powerful crunchy riffs.  


Discover the hidden power of the phrygian mode - another great movable pattern you can use to create exotic, power riffs (45:04)

You're going to love "The patented 5 bar pattern" -- it's a unique  Jack Frost way to play blues patterns with style and attitude.

And here's my favorite part of these DVDs:

Big Rhythm Secret #4:
Bring on the "Frostitude" 

"Attitude is half the battle.
Conquer your mind and rule the neck."

Here's what you're really going to get from watching these DVDs:  A WHOLE NEW ATTITUDE -- I call it "The Frostitude".

Half the battle in playing the rhythm is attitude. These DVDs are going to light a fire under your ass, guaranteed, and also show you dozens of ways to break out of the box.




Jack Frost is the easily the most energetic guitar instructor I've ever seen.  Get ready to get motivated, inspired and pumped.



If you're trying to playing rhythm with no attitude and no edge... you're going to sound like a chump.  If even 10% of Jack's attitude rubs off on you, you're going to sound like a champ.

Own any stage by leaving "no room for air" and just rocking every single note with max intensity, while making your guitar squeal and scream.

To top it all off, Jack hooks us up with:

A Monster Riff and
Songwriting Clinic

Want to become a songwriting machine?  Then watch to see some great ideas on how to combine a few various rhythms and riffs.

Jack opens the hood and shows you every little trick he's got when it comes to writing riffs and songs.  He gives dozens of golden-nuggets that you can apply right away and get some amazing results.

How to become a riff writing machine and get ideas all the time for killer tunes 40:40

How to transform simple scale patterns into song magic 41:00

You'll learn how to get in the right attitude to write timeless riffs like Smoke On The Water.  40:15

Epic Bonus Footage

"You're going to save years
of error, pain, and suffering."

Jack reveals exactly how you can get gigs. Everything from how to practice... What to do when you're playing live... what's the right kind of attitude...

What's the exact pedals you NEED?  What kind of amps?  What styles should you learn? Laying back vs. playing in front of the beat...what it means and when do each one. No stone is left unturned.

And there's more bonus footage of Jack standing up and rocking out like he's on stage, and also you'll get these epic jam tracks that he's using to perform on the DVDs. You'll be able to practice and have a blast.
It's All Part of
"Epic Rhythm Guitar Power"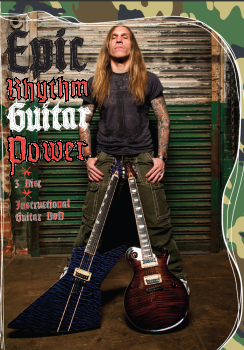 Epic Rhythm Guitar Power
comes on 3 DVDs and includes 26 pages of tabs.
And with Powertabs,
Learning has Never Been Easier.
You're not just getting 3 jam-packed DVDs. You're also getting 26 pages of tabs showing you everything note for note, both in PDF format, and also in Powertab format so you can watch the notes go by on your computer, and each one is highlighted as its playing.

If you've never experienced this before, it's incredible. No more trying to "figure out" the rhythm of the tabs. You see it, you hear it, and you learn it -- FAST.


You don't need monster chops and you don't need to practice for hours and hours. Even if you learn just 10% of what's on these DVDs, you'll take your playing up several notches in record time.

At Guitar Control, we are passionate about helping guitarists like you have a lot of fun while learning incredible guitar skills as quickly and as easily as possible.

That's why we are so excited to send you a copy of Epic Rhythm Guitar Power. And we're so confident in this product that:

We're Offering you an Outrageous
DOUBLE your Money Back Guarantee.

This easily the boldest guarantee in the history of guitar lessons. Here's how it works:
You're Protected By TWO Insanely
Generous Money-Back Guarantees
Your First Guarantee:You have TWELVE full months to examine everything, use what you wish, and, if for any reason or even no reason, you want a full refund, just return everything and you'll get your money back immediately.
No hassle. No "fine print." Simple and straightforward; you are thrilled with what you get in my package or you get a full refund. If you're not going to benefit from having a copy of Epic Rhtyhm Guitar Power, I really would prefer to buy it back.
Your SECOND Guarantee: Your SECOND Guarantee: Yes, we'll give you double your money back if you seriously practice with this course for 6 months and DON'T improve. Just send us a video of you playing within 30 days buying the course and another six months later. If you feel that you're not totally rocking on the guitar, we'll give you DOUBLE your money back.
Sure, it sounds like we're putting our necks on the line with this guarantee but we're not because we know you're gonna love it!
We are giving this super crazy guarantee because we want to help you rock out BIGTIME -- So we want you to feel absolutely assured that your time won't be wasted. This course is the real deal!

This an amazing opportunity to invest in yourself and your musical education with some of the most rocking (yet easy to use) guitar lessons ever captured on video.

Listen, Jack brings you over 3 decades of in-the-trenches knowledge, wisdom and guitar secrets and you would be hard pressed to find anything close to this, anywhere... And even if you could fly and hire a Jack to teach you the same things, look at how much it would cost you:


We're talking about 3 DVDs and 3 hours of instructions, plus tabs. That's easily worth $50 a DVD.


But you won't pay $150. You won't even pay $100.


In fact, I'm slashing the price right down to $97 $77.

You know you want this... so don't second guess yourself. It's a no-brainer decision to order RIGHT NOW...

Just click to the next page, fill out your information, and you'll soon be the proud owner of Epic Rhythm Guitar Power course that will reward you for a lifetime.

Keep Riffing,

Claude Johnson
Your Friendly Guitar Instructor

P.S. Don't forget you're protected by a DOUBLE-your-money-back guarantee, so you have nothing to lose and loads of rock guitar power to gain.