$recordtype="pagehit"; ?> include ('/home/web/domains/guitarcontrol.com/greenlantern.php'); ?>
What's The Best Way For A Beginner To
Transform Into A Rock Solid Piano Player?
The surprising and simple answer is: Start learning the songs you love.
Now, I realize there's hundreds of other instructors, books, videos, and systems out there. So, what makes The Ultimate Piano Song Collection so special?
Two reasons.
First of all, I don't believe in bogging you down in any dull theory. I've watched a lot of guys teach and most of the time they are making it WAYYY too complicated, theoretical, and quite frankly, just plain boring.
Secondly, playing good piano is ALL about the repertoire. In other words, it's all about learning sweet tunes from your favorite artists.
Why waste your time on boring exercises when you can be learning GREAT SONGS. I believe the aspiring musician should spent just a small amount of time learning the basics, and the rest of the time having fun and playing real music.
Now, that might sound obvious but you would amazed how many courses have it completely backwards.
After a lifetime of playing, composing, performing, and giving 1-on-1 lessons, I've finally had the opportunity to sit down and present my own personal system for making piano lessons easy and fun.
And I've filmed everything in beautiful HD video.
Playing Great Sounding Piano
Boils Down to 2 Simple Steps.
Step 1. Learn some basic piano chords (this isn't hard).


Piano doesn't have to be hard -- IF you have the right teacher. In fact, all you need to do is learn a few basic patterns and you're golden. The LAST thing you want to do is get lost with mind-numbing memorization of crazy piano chord combinations.

I don't like to play hard stuff.

Instead: you want to learn the core basics and learn a few tricks that will give you GREAT SOUNDING VARIATIONS.

Instead of useless theory, you're going to learn how to give the basic chords that PRO SOUND. It takes some players decades to figure it out... however with my help you can learn it all in a few short hours.

Why not learn things the easy way?

Step 2. Start learning your favorite songs (this is super fun).


I believe in jumping into the pool with both feet, and starting to play songs right away, even if its your very first day playing piano.




If that sounds scary, don't worry, you CAN do it. Why am I so sure? Well, because you've already taken the first step and can play some simple chords, and then all we have to do is combine them. Really, that's what a song IS -- a few chords put together.




Now there's a few other tips and tricks, and I'm gonna show you everything you need to know throughout the videos. But even if you ignore all that, and just start playing some basic chord progressions, you will be well on your way to being a capable musician.
Here's One Of The Biggest Secrets
About Playing The Piano:
It's all about keeping it simple. You don't need crazy technique or have your fingers flying all over the keys.
The less movement your fingers have to do, the easier of a time you'll have, and the less mistakes you'll make. You'll be able to learn more songs in a shorter time with less effort.
Plus you'll "mesh" with other musicians much better and create a lush cushion of sound that will support the band.
If you go too crazy with some weird, flashy stuff -- it will clash with the rest of the musicians.
And they'll hate you for it (and probably never play with you again).
However...
If you master the simple tricks and techniques I'm going to teach you inside of my course, you'll be years ahead of the game.
I'm Not Here To Impress You With What I Can Do.
I'm Here To Teach You How YOU Can Play
Piano And Keyboards.
Not only are you going to build an incredble repertoire of songs... you're also going to have a blast doing it, AND you'll discover some super hot "tricks of the trade" that will make your playing smooth and melodic. For example...
Pro sound secrets: When to "invert" chords to get those choice close-voicing chords, which sound 10 times better than the "amateur style". Best part: it's actually easier to play!
How to "flesh out" ordinary chord progressions with some beautiful melodies. You'll be amazed how it all starts to "come together".
Even complicated-sounding piano romps can be boiled down into easy-to-do renditions that you can bang out in minutes.
Beautiful bass notes, baby... Add a few select bass notes and watch your playing come alive with that rich, full sound.
The "octave secret" -- one of the most powerful ways to exploit the power of the instrument.
Get slick: Try these passing chord ideas and take another shortcut right to the pro zone.
Here's another must know secret: When to play chords, and when to play "riffs". This will make you a well-rounded musician.
Learn The Pro Sound Secrets And
The Insider Tricks Behind Great Piano.
Explore your creativity by using different chord colorings. This is how to make things eternally interesting and get a lifetime of enjoyment from your instrument.
The grace note maneuver adds some hot grease and makes your playing sizzling.
Try this classic technique -- the walkdown. It really connects your chords to make some tasty ear candy.
You'll barely have to move your fingers when you use the art of science of "minimal movement". It makes playing all your tunes easier. Just watch.
The "alternating bass" method sounds like the bomb and adds dynamic movement to any tune.
And there's much MUCH more...
B.B. King
Ben E King
Bill Withers
Blind Faith
Bob Dylan
Bob Marley
Bob Seager
Bobby Hebb
Canned Heat
Cat Stevens
Coldplay
Creedence Clearwater
Revival
Don Henley
Elvis Presley
Grateful Dead
Green Day
Hank Williams
Jerry Lee Lewis
Jimi Hendrix
Jimmy Cliff
John Newton
Johnny Cash
Johnny Nash
Joni Mitchell
Lenny Williams
Lynyrd Skynyrd
Neil Young
Otis Redding
Richard Berry
Sam Cooke
Simon and Garfunkel
Sonny Boy Williamson
Taj Mahal
The Band
The Beatles
The Eagles
The Everly Brothers
The Police
The Rolling Stones
Tom Petty
Van Morrison
Learn At Your Own Pace.
You're In Control Of Your Learning.
You'll never fall behind, because there is no schedule to keep up with.
There's no pressure and you certaintly don't need to try to learn all 50 songs in a day. Just take your time, have fun with it, and pick the songs you like the most.
It's completely up to you. And once you own these Piano courses, you can watch them whenever want, so there's never any deadlines.
Virtually every musician can learn some valuable techniques from these groundbreaking lessons. They're exactly what every beginning player needs who's ever wanted to sit down at the piano and play their favorite songs.
Every Aspiring Keyboard Player Will Love
This Exciting, Eye-Opening Course.
Owning These Piano Course Is A No-Brainer Move.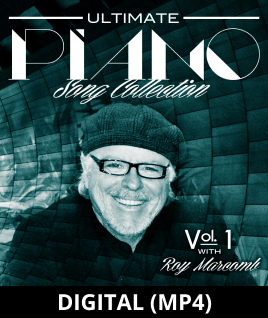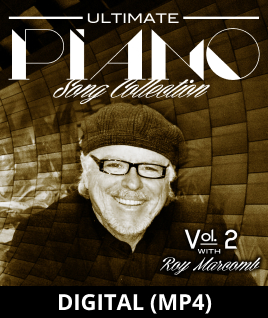 I honestly feel this is the best learning value offered anywhere when it comes to piano lessons.
You know how expensive private lessons can be. And even if you could fly down to California, I could only teach you about 10% of what's on these 3 Piano courses in the same time period.
But with The Ultimate Piano Song Collection, you're getting the exact chords and shortcuts you need to play 50 classic tunes, and you can watch them over and over.
Ultimate Piano Song Collection
vs.
Private Instruction
I'm not going to knock one-on-one lessons. However, like I said: they usually end up costing a small fortune.
And often, most of these guys don't have a SYSTEM. They just teach whatever they feel like that day and create more confusion than solutions.
Now, look at this chart...
As you see, you'll save thousands of dollars by purchasing the "Ultimate Piano Song Collection".
The Ultimate Piano Song Collection is a systematized course that will give you the insider secrets you need to play like a pro in record time.
I'd like to make your decision easy. So, here's the deal... Try the course, and if you're not THRILLED with your progress, or you don't like the course for any reason, (or even no reason at all), then you can send an email and I'll refund every penny immediately. There's no fine print and no hassles.
You're Protected By My 100%
Total Satisfaction Unconditional
Money Back Guarantee.
There are no strings attached to this offer. I stand behind my work and I know you'll be happy with this course. And if you're not -- don't worry because I will offer you a complete 60-day, no-risk, 100% money-back guarantee.
Order this collection of piano song lessons... watch them... then sit down on the bench... play a few chords... tickle a few keys... and then play a song just to prove to yourself that...
You've Became A Really Respectable Player
Faster Than You Ever Thought Possible.
If it doesn't happen, simply send a quick note and I'll see that you receive a prompt refund of your money, no questions asked.
Am I Crazy? Or is This Course that GOOD?
I can afford to be so generous... because I know the TRUTH. You see... this system really does work! It's amazing, it's almost like magic because it shouldn't be THIS straightforward... but it is.
Just imagine inviting your friends and family over and blowing them away with some classic songs.
Jaws will drop and respect will be earned. It's up to you whether or not you let anyone know you learned the secrets from me.
It's a no-brainer decision, so please click on the link below, fill out your information, and you'll soon be the proud owner of The Ultimate Piano Song Collection course that will reward you for a lifetime.
Here's how to order. Just click the link below and this will bring you to the "order page". Then, just fill in your information and that's it.
So let's get into the fun stuff...
Don't delay -- click the link below right now!
Keep playin,
Roy Marcom
P.S. Remember, you're protected by my 60-Day unconditional money-back guarantee.
I realize that you're a unique individual and since I've never met you personally, I can't promise you'll be a musical success... BUT... what I CAN promise is that these are the most effective techniques I've ever seen in my 40 years of playing, and if you aren't absolutely impressed and delighted with my course, then I'm happy to give you no-hassle refund.
My reputation is my most valuable asset (it took me 4 long decades to build it). And I intend on honoring any refund requests with zero questions asked. I want you to be 100% happy no matter what.