Let's dive right into it. Here's some of game-changing plug-n-play riffs you're gonna learn:
The two main picking techniques to create epic booms, thumps and pops. 4:50
Simple exercises that give you total fluency with all your fingers FAST. 9:35
DRONE ALERT! The drone blues pinching technique will have you playing just like those old Mississippi blues cats that have been pounding Jim Beam since 1937. 13:43
How to layer hypnotic basslines with soulful melodies for that full sounding "one man band sound" that you can dominate any room with. 15:37
Become A Master Of The Blues "The Easy Way."
Make your life easy with these blues shortcuts to fretboard mastery. Hint: its all about knowing the secrets to playing in each key. 18:23
MORE DRONE ATTACKS! How to add tasty chordal embellishments to spice up a 1-chord drone vamp and weave long, interesting melodies lines while you're playing epic gut-bucket blues. 21:54
Sweet ear candy: Create sophisticated syncopated rhythms with some slick hammer-ons. 23:16
Unleash a wall of sound by using the boom-chicka strum and the rhythmic bump. 25:46
Tap into the deepest powers of the blue note that instantly evoke soulful cries when your guitar sings the blues. 28:23
Monster groove madness: Combine bends, boom-strums, and hammerons for a rollercoaster ride of a ferocious blues riffs. 31:15
Go sell your guitars at the pawn shop if you can't play these must-know licks that are in 90% of all blues songs... don't miss these. 34:34
Must-Know Secrets Of The Blues Legends.
How Lightnin' Hopkins and John Lee Hooker wove such epic guitar sounds into their signature styles. 37:15
Forget boring, ordinary picking. Now you can get that epic articulation using the "brush and stroke" technique. You'll be cooler than a gator wearing shades sippin' a Mississippi mudslide. 39:25
Sweet-as-molasses blues rhythms using some unusual shapes that you can use in all 12 keys. 43:30
Get ready to blow the roof off the bar with these gritty, overdriven blues bombs. 47:20
Junior Kimbro and The Black Keys love these killer 2-string riffs. Steal it. Learn it. Play it. 50:17
Be like SRV and double the emotional vibe of your blues riffs by adding some easy bass notes. Best part: try this simple exercise to build fluency with this technique. 54:20
All that's just on the first Digital Course. There's a lot more potent lessons in this incredible set of 3 courses and tabs.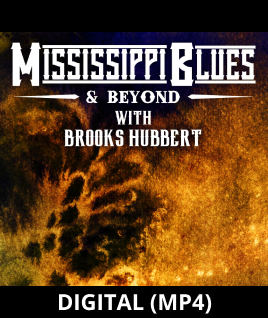 Here's what you'll discover on course 2:
All aboard! Launch the "train" groove.. It's another super full-sounding rhythm that creates the sound of a whole band. 6:12
Learn multiple blues forms: 12 bar, 8 bar, 16 bar... You'll have a blast studying them all as you start to rock out on tons of different styles and songs. 13:23
More stellar rhythm guitar tricks such as: how to move your bass notes around, "roll" figures, hill style riffs, and the swing rhythm. 20:15
Blues with a twist: Here's another swing blues in A, but it contains a secret maneuver that makes the I-IV change sound epic. 26:56
Blow Their Minds At The Jam Session.
Quintessential blues lick? Absolutely... Every blues guitar pro plays it, plus you'll even hear it on harmonica and piano too...its just PART of the blues. 32:03
In fact, you can learn a set of melodies for every blues chord that NO ONE will question. It's just the fastest way to play the blues with authority. Period! 37:25
Get any crowd riled up with this feet stomping, hand clapping blues groove. 41:46
You'll love this one: How you can play open tuning stuff in a standard tuning so you don't have to retune your guitar. This comes from the late, great R.L. Burnside. 46:39
How to "hover" between major and minor chords and create endless bluesy possibilities. 53:20
You'll Sound Like A Pro Within
5 Minutes Of Learning This.
The fun keeps on rolling when you pop in course 3.
Delight any listener when you drop the pulsing bass major-blues sound, especially when you combine it with the "secret note". 10:32
The Hill country style, decoded. Whip this out at a jam and kick start a musical frenzy. 18:12
Tired of the same I-IV-V? Use these alternate chords to create tons of fresh sounds. 22:30
This Is How You Sound Like An Epic
Blues Piano Player...But On The Guitar
Dig folky bluegrass riffs? Then you're gonna love these killer picking patterns. 25:10
How to substitute one chord in any familiar song and like magic you'll have a totally new progression. 28:51
Trick of the trade: How to fret 2 notes at once with the same finger without barring -- this is one directly from Brooks' dad... A cool trick that gives you some extra range and capabilities. 34:12
Hanging onto notes outside the chords creates delicious tension. It's a really cool technique. 43:54
And there's a lot more stuff I just didn't have time to go over here.
Plus We Filmed 3 MORE Courses
With Tons More Amazing
Blues Guitar Lessons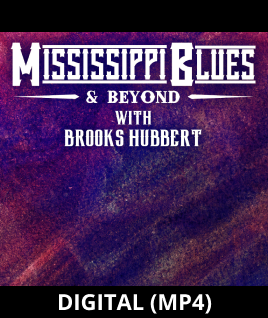 Here's what you're gonna discover in the Volume II of Mississippi Blues and Beyond Digital Course.
Create A Ferociously Cool "Wall of Sound."
How to jam with any musician while weaving your way across the neck with interlocking chord shapes and slick blues licks. 2:34
Put together the picture puzzle of the entire fretboard, and unlock the mental image you really need to master the guitar. 8:13
Smoother than butter... How to slide, transition, and position-shift like a pro. 16:01
Fly all over the neck with "mini-fragments". 22:45
Plus an awesome way to practice these new sounds all over the neck. 28:14
Open A Whole New World
Of Interesting Blues Lines.
Tap into the secret of anticipation when improvising and automagically create lines that are smokin'. You'll evoke a powerful response from the listener using just a few notes. 40:23
The "approaching sound" that is one of the big keys in the blues, different ways to connect chords together, and much more. 55:13

There's tons more, but let's move onto course 5 in the series...

How to get your own unique vibrato -- its one of the most important trademarks of every great bluesman. 12:05
How to find your own "comfort zone" on the neck so your improvising becomes relaxed and natural. 19:47
Avoid 3 common bending mistakes, plus learn the magical sounding "oblique" bends. 23:35
Master the art of the slow blues. 28:10
Want To Play Better Leads?
Sick and tired of noodling on scales? Then learn how to slice, cut and isolate key melodies using arpeggios. 33:45
How to find that all elusive "space" in blues. Uncover the perfect uncluttered spot to express your most important musical statements. 38:12
The "pop and pick" technique that some of the greatest shredders of all time used. It works because you can play fast without a ton of picking technique. Watch and try it for yourself. 43:24
Create clickety, smokin' hot nashville country blues licks. 49:20
Sound Like A Mature,
Sophisticated Guitar Master.
The final course takes it to the zamner zone.

Unleash your Jedi guitar powers (and still use the dark side of the force) when you combine minor, major, and dominant tonalities all in the same solo. 15:17
Create a sick mix on the fly by infusing country-blues-jazz combos with slick arpeggios, chromatic notes and more. 27:48
Blues comping concepts to spruce up your playing, including secrets of the 13chord -- a must-know voicing that makes your playing sound great. 31:19
Create Awesome B.B. King inspired rhythms, including the "horn section" sound. 38:49
Change One Note And Make
A Dramatic Difference.
Go bonkers with jazz-blues...jump blues... latin-shuffle fusion blues, swing blues, rock blues, and more... 43:12
How to use the mixolydian scale to rip it up and truly go "beyond the beyond" with your solos. 48:18
Slather some Santana flavor all over your axe with "The Carlos Scale". 52:10
Every Aspiring Guitar Player Will Love
This Spectacular, Mindblowing Blues Course.
Owning These Digital Course Is A No-Brainer Move.
If you've been following the release of this course, and have read this far, then hopefully you're ready and excited to fry yourself up some Mississippi blues chops.
So if you're feeling the vibes, and you're passionate about blues guitar, then buying these Digital Courses is the easiest decision you've made all year.
With Powertabs, Learning
Has Never Been Easier.
Not only is every note tabbed out for you, but the tabs are also provided in Powertab format so you can watch the notes go by on your computer, and each one is highlighted as its playing.
You're Protected By Our Famous
60-Day Money-Back Guarantee.
The "risk" is all on ME, my friend... If you don't love these courses, then I'll refund every penny,
No B.S, no run-around, and no hard feelings.
This is an amazing opportunity to learn some killer blues guitar from one of Mississippi's hottest performers.
So please, go ahead... Tap into this treasure trove of knowledge, wisdom, and guitar secrets. You'll be hard pressed to find anything close to this, anywhere... And even if you could sit down with someone like Brooks for lessons, look at how much it would cost:

Even by Digital Course standards, this 3 course set is easily worth $150 ($50 a course).

But you wont pay $150.

You won't even pay $100.

We have several LOW PRICE PACKAGES available.

Don't forget you're getting 3 jam-packed digital courses complete with tabs!
It's a no-brainer decision, so please click on the link below, fill out your information, and you'll soon be the proud owner of this Mississippi Blues and Beyond course that will reward you for a lifetime.