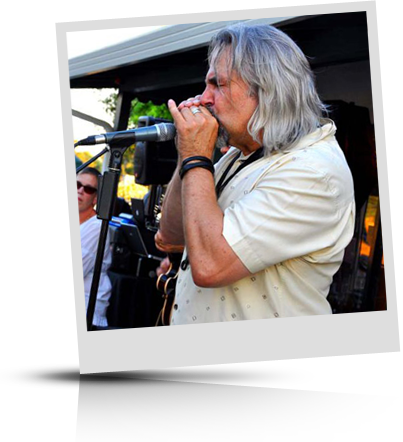 Are you interested in being able to pick up the
harmonica and absolutely wail, playing just what
you feel the moment?
Do you want to learn to play all your favorite
songs, almost overnight?
Want to change your sound from "amateur" to
pro and become that rock-solid harp player that
everyone wants to play with, and everyone
enjoys listening to?

You may be wondering "Who the heck are you anyway?" and what makes me qualified to teach you how to play the harmonica?
Well, I'm a seasoned professional -- "the real deal" and I've been playing harmonica for a very long time.
Here's a partial list of legends that I've performed with over the last 2 decades:
♦ Jeff Beck
♦ Albert King
♦ Gregg Allman
♦ Steve Miller
♦ Mr. Bungle
♦ Huey Lewis
♦ Eric Martin(Mr. Big)
♦ Doobie Brothers
♦ Michael McDonald
♦ Little Feat
♦ Chris Cain
♦ Pinetop Perkins
♦ Tommy Castro
♦ Joe Louis Walker
♦ Donald Byrd
♦ Dana Carvey
♦ Robin Williams
♦ Little Milton
♦ Bryan Lee
♦ Norton Buffalo


♦ John Popper (Blues Traveler)
♦ Dr. Lonnie Smith (George Benson)
♦ Bernard Purdie (Aretha Franklin)
♦ Sid McGinnis(Letterman Show Band)
♦ Neal Schon(Journey)
♦ Will Lee(Letterman Show Band)
♦ Larry Williams (Boney Maroney)
♦ Larry "Arkansas" Davis (Texas Flood)
♦ Greg Errico (Sly & The Family Stone)
♦ Ernest Ranglin (Bob Marley)
♦ Booker T & The M.G.'s
♦ Mike Patton (Faith No More)
♦ Johnnie Johnson
(Keith Richards, Chuck Berry)
♦ Rick Stevens (Tower of Power)
♦ Narada Michael Walden
♦ Greg Rollie (Santana, Journey)
♦ Ross Valory (Journey)
♦ Frank Biner (Tower of Power)
♦ Norman Greenbaum (Spirit in the Sky)
I've also been the opening act for:
♦ James Brown
♦ P-Funk
♦ Tower of Power
♦ Etta James
♦ Linda Ronstadt
♦ Night Ranger
♦ Pablo Cruise
♦ Johnny Paycheck
♦ Willie Nelson
♦ Leon Russell


♦ Joe Walsh
♦ Fabulous Thunderbirds
♦ Creedence Clearwater Revisited
♦ Lynyrd Skynyrd
♦ ZZ Top
♦ Gatemouth Brown
♦ BB King
♦ Dave Mason
♦ David Crosby
♦ Keb Mo
As you can see, I've been fortunate to meet and play with some true "legends" in my time and I've toured the world with some of the great Blues and R&B masters. I'm a very lucky guy.
Like I said, I'm not telling you all this to brag. I tell you this so that you understand that I have the chops and understanding to take anyone's harmonica playing to another level.
No matter your experience level, I know these easy-to-follow lessons are going to really make a difference for you.
I know that's a big claim, especially with the hundreds of books, videos and instructors already out there. So, I'll explain why this package is so special...

First, I've played thousands of gigs, and countless jam sessions, and I've had the opportunity to watch a lot of harmonica players.

I watched a lot of guys play and something just didn't "feel right". I thought they were over-complicating things and most of them were getting stuck in the same ruts.

After years of trial and error, I perfected a really powerful system to help you turbo-boost your harmonica skills - fast.
And I've filmed everything in beautiful HD video on digital copies. These courses will save you years of pain and suffering and catapult your chops to the pro zone in a few short hours.
There's a few powerful secrets and principles, that when you apply them correctly, will allow you to make massive progress in minimum time.
Unfortunately, most harmonica lesson books, videos and even personal instructors fail to understand these secrets. They either overload the student with too much information... or even worse, they teach you a jumbled mess of ideas that leaves you dazed and confused.

In fact, that's why I decided to create this system. As a professional musician and teacher, I meet dozens of frustrated harmonica players who are on the edge of giving up because they're no longer seeing results. They're not getting better...

They call me, and they're frustrated...

And that's why I decided to make this system available to players like you. And people from around the globe are diggin' it...
Now here's 3 powerful steps that can help you kick your playing into overdrive right now:
If you're reading this letter, maybe can already play the harmonica. If you do... I want to take YOUR SKILLS to the next dimension -- FAST. If you don't already play, then you're going to go from zero to harmonica hero faster than ever dreamed of.

How?

By sharing some of my patented simple "pro sound secrets" I can shortcut your learning curve significantly. Some of these simple little tricks took me decades to figure out... Some where passed to me by MASTERS. And now you can learn them all in 3 fun hours.
First off, you'll discover the two two basic techniques to get a crystal clear tone on the harmonica: "Tongue blocking" and "Spit Position". These two unique techniques are the holy grail of playing impressive harmonica. You'll be able to tweak your tone at will.
Hands, Lips, tongue, throat, diaphragm... Playing harmonica is all about using the right subtle techniques for each one of these. Every little nuance makes a BIG difference. I'm going to show you how to put it all together so you finally capture that "BIG PRO SOUND".
The best harmonica players aren't the guys that know the most theory.

They're the guys that can translate what they hear into what they want to play.

It's all about being able to play by ear and jam.

That's why harmonica is so cool... You can pick it up and just start playing.

And you can benefit from some very powerful techniques and strategies that can multiply your "improve powers" tremendously.

That's what I'm going to show you in Harmonica Made Simple.
I'll guide you step-by-step and show you some very simple techniques and exercises that work like gangbusters to improve your creative playing.
With these easy tips, you'll be playing by ear and feeling comfortable faster than you can imagine.

Jamming out is great, and you should also being learning tunes and melodies.
It's one of the fastest ways to become a pro studio player, it's extremely rewarding, and it's going to improve your playing a number of different ways.
In fact, when you learn a few simple tricks, you'll be able to play with virtually any band and play any tune you want. You'll be able to use these pro harmonica secrets in all your playing in the future.
Here's The First Big Tip
About Playing Harmonica:
Keep it simple.
If you go too crazy with some weird, flashy stuff -- it will clash with the rest of the musicians. And they'll hate you for it (and probably never play with you again).
However...
If you master the simple tricks and techniques I'm going to teach you inside of my courses, you'll be years ahead of the game. Your playing will be tasteful, and best of all it will sound amazing.
The Second Big Lesson You're Gonna Learn Is:
How To Stand Out From The Pack
When It's Appropriate.
I'm going to reveal some easy secrets that you can learn in minutes that will give you that "PRO SOUND". With these methods, you'll be able to command respect and win the hearts of musicians and fans alike.

When you learn how to balance "fitting in" and "standing out", you'll become one of the most in-demand studio players in your neighborhood -- guaranteed.
You'll Be Able To Play With Other People...
Become The Hit Of The Party... Get Gigs..
Maybe Even Go On Tour Or
Get A Recording Contract.
Together -- we're going to go from zero to harmonica hero in record time.
First we're going to start with the "fundamentals".
Here's a small sample of what you're going to learn on the courses:
Follow along with a handy PDF cheat-sheet that shows you an easy to understand chart of all the harmonica positions. This visual representation of the harmonica will help you as you watch the videos.
How you hold the harmonica can completely change the sound of your instrument. Hold it wrong and you'll sound like a wet noodle. Hold it correctly and the blues gods will smile down on you. 4:04
Blow and Draw Patterns - These beginner strategies start you off on the right foot to owning the stage with mind blowing harmonica skills. Best of all they are brain-dead simple. 5:56
"Drinking the air" is a unique strategy to get ultimate power and control with the Harmonica. Take a big gulp and start rocking like a champion veteran. 6:01
How to use your diaphragm for ultimate control and power. Your diaphragm is vital to not sounding like a ridiculous wimp on the harmonica. 7:00
Breathing exercises that help strengthen your playing so you get that solid tone you hear on your favorite records. Proper breathing technique is what's going to bring those monster harmonica screams everyone loves to hear. 8:12
The "ParaDiddle" exercise... Watch how understanding the concept of a drum beat can take your harmonica playing to the Jedi-level in no time. 10:13
Does your tongue play a factor in your tone? Heck yes it does. Here is how tongue technique can make or break your sound as a harmonica player. Don't ignore this crucial component of the pros. 11:50
"Train Sounds"... What does a train have in common with the harmonica? Here is how this weird fact makes your playing sound like you've been at it for years. All aboard! 12:44
Why so many harmonicas? Here is why there are so many harmonicas in a pro's collection. Learn which harmonicas are best for which key and how to pick the right one for any song. Pick the wrong harmonica for the wrong song and the crowd will throw tomatoes at you 14:19
Understanding "Draw Notes" will help you get that soulful, greasy harmonica sound everyone loves. There is nothing like the rush of people screaming for an encore after you just destroyed the crowd. 18:11
Playing in "First Position" is a vital step to mastering the harmonica. Here is a PHD level crash-course in First Position that anyone will understand. This will get you excited about moving on to more advanced lessons. 22:20
We're just getting started...
Let's Get Into The Fun Stuff
You Can Use Right Away...
Remember I said I want this to be fun? Here are just a few things I jump into after the fundamentals are covered:
The two basic techniques to get a crystal clear single note on the harmonica: "Tongue blocking" and "Spit Position". These two unique techniques are the holy grail of playing impressive first position harmonica. One technique is for fatter, warmer notes. The other is for thinner, brighter notes. Learn them both and you will stand out instantly. 27:00
A nearly forgotten trick used by the late, great Norton Buffalo called the "U-Block". This esoteric style of playing will give you a killer tone that few people will be able to figure out. 32:15
Easy scale exercises even your dog could learn. You will be shocked when you see how easy it is to start playing great harmonica with these simple exercises designed with the beginner in mind. 37:32
What happens to your harmonica at hole #7? If you don't learn this little tidbit then you will only be using a small part of your harmonica properly. Don't let this be you. 41:12
Some notes in the scale are missing on a harmonica? Why? This weird fact of the instrument confuses many students. Here is the workaround so you won't get hung up. 47:49
Check out these single note melodies that don't suck. Why play boring melodies when you have these tasty licks at your disposal. 51:10
This famous cartoon is the basis for crafting great melodies on the harmonica. Which one is it? You may be surprised. You can bet your bottom dollar this will improve your playing drastically. 56:50
You're going to love my step-by-step system.
Learning harmonica had never been easier.
I'm Not Here To Impress You With What I Can Do.
I'm Here To Teach You How
YOU Can Play Killer Harmonica
That's why I've created a simple, sequential, learning-system. Just follow along with me and by the time the courses are over you'll be amazed at what you can play (and so will everyone that hears you).
You'll be able to fly all over the harmonica and play some tasty little licks -- FAST. These core secrets are what every aspiring player needs to learn and master.
Your playing is going to really start sounding great when you start playing along with real music. Nothing hones your chops to perfection like rocking with other people.
Jam along with me and my friend Jimmy Dillon as he lays down some soulful acoustic guitar you can play harmonica on top of. Its like having your very own guitarist playing along at your own pace. And he NEVER gets bored! 2:20
You're going to learn how the harmonica interacts with other musical instruments for that "pro" sound few harmonica players ever master.
Then we really start cooking with gas...
Learn The Pro Sound Secrets And
The Insider Tricks Behind Killer Harmonica...
What's interesting is "the pro sound secrets" aren't harder to play. They're just as easy as the "amateur sound". The difference is that you'll achieve a much sweeter, fuller sound on the harmonica.

The secret is understanding how you use your whole body to play the harmonica. Your lips, tongue, throat, breath, everything... its all vital to play like a professional and sound amazing.
Thats why I share several exercises that cover all of these important factors of playing. I want you to become "one" with your harmonica and really start rocking it.
These simple exercises will transform your playing immediately. I'm serious... They are worth the price of this course by themselves. No doubt about it.
Check out more of these insider tricks I am ready to show you:
Second Position: Now we start really digging into the Harmonica. Here are the basics of Second Position and how anyone can pick it up quickly. You're own your way to becoming a true legend now. 8:43
Get that big, bending sound by combining everything you've learned so far with a new technique called "Cross Harp" to add real sauce to your playing. Your back porch never sounded so good. 12:34
How do I know which key to play in? Its not hard at all. A few simple theory tricks are all you need to play harmonica in different keys. 16:52
Try this "inverted kiss" to create a wild sound that will melt people's brains when they hear you play. It works really well with percussive blues music. 19:15
What does a saxophone and a harmonica have in common? How does this help you become a better harmonica player? The answer will surprise you. 25:16
Do You Love Fail-Proof, Simple Formulas?
Make the harmonica "Shake". This very common 2 note trick is ridiculously easy to do. Now you will have that classic sound that all great harmonica players make when they really get down and dirty. 29:58
How to add tasteful harmonica to pop music using the major pentatonic scale. Its simple and makes a beautiful song even more inspirational. The best part is it's nearly impossible to play a wrong note with this strategy.. 37:02
Lets start bending notes. Nothing sounds sweeter than a harmonica that bends the heck out of the scale. This awesome strategy is a must for anyone who ever hopes to rise above amateur status. 43:00
Bending is very similar to singing. Its not exact and can sound slightly out of tune if you do it wrong. Here are some simple tips to quickly nail the bent note. 50:25
Rock solid harmonica chops involve more than just your mouth...The "Bomb Drop Sound" is a cool technique that reshapes your larynx for even more control. This little tip surprises a lot of novice players. You can never have enough killer tools like this. 58:12
Then Learn How To Play All Your Favorite
Songs (The Pro Way - Of Course).
We're not done yet. Boy oh boy, do I have some sweet secrets in store for you on course 3.
Hands, Lips, tongue, throat, diaphragm... Playing harmonica is all about using your whole body to rock a crowd. Here is how it all works together to get playing the harmonica down into your bones. 3:13
Now let's combine First Position and Second Position into a blues jam. Our good friend Jimmy Dillon breaks out some down and dirty acoustic slide guitar so you can jam along. Each trick and technique is broken down so you know exactly what's going on. The Blues never felt this good. 7:31
Here is an "Open Chordal" style of harmonica played over some folk music similar to Bob Dylan. You will be shocked to see how easy it is to sound like Bob. Now you're really freewheelin' my friend. 11:48
The best part about playing harmonica is that it sounds great in nearly any style of music. Here is how the harmonica fits in with several different styles from Blues to Rock to Bluegrass. Now you'll be able to handle anything thrown your way. 15:01
What are the the 4 T's? Touch, Tone, Timing and Taste will help you develop into a sassy, soulful harmonica player faster than you can say lickety-split. You need all 4 to really wail with flavor and character. Don't skip this. 17:15
A "rhythmic chop" is a great trick for playing harmonica without a drummer. This helps lock in the groove and makes things easier for the whole band to play along. Who knew the harmonica could control the show? 20:23
Vibrato is like barbecue sauce. Here is how to use vibrato in a way that makes any tune more delicious. No napkins necessary. 23:54
What is the "turnaround" in a song? How do you play harmonica over the turnaround? Don't worry it's super simple and gives the song a lot of musicality. 28:10
Believe it or not, silence in the right place adds a lot to the song. Here is when to shut up for awhile and when to come back in again. It sounds simple but nothing proves you have good taste like making silence work in a song. 31:43
Here are some etiquette tips for working with new musicians. If you ever hope to audition for a band or jam with other people these tried and true tips will save you embarrassment. Nothing will help you get the gig faster than having harmonica chops AND interacting with other musicians like a professional. 36:14
What happens when you bring in vocals? Everything changes of course. Here is how to work with a vocalist so it adds to the song rather than screws it up. The vocalist will rip your head off if you don't learn this. 41:15
The ultimate cheat for practicing blues harmonica is... Scotch Tape? Here is how to use scotch tape to blow through your learning curve at the speed of light. 45:34
Make your harmonica flutter like a bluesy butterfly. This easy trick will knock an audience's socks off. 50:43
Here is a nifty yodel sound on the harmonica. Just another ace up your sleeve for wowing a crowd. 57:25
Here is a weird, primal sound that crosses the boundary of music and noise. Just a quick second of this will give you a raw sound other people will beg you to teach them. 62:11
Every Aspiring Harmonica Player
Will Love This Exciting, Eye-Opening
Course. Owning These Courses is a
No-Brainer Move.
Virtually every musician can learn some valuable techniques from these groundbreaking lessons. They're exactly what every beginning player needs who's ever wanted to pick up the harmonica and play their favorite songs.
And it's sooo simple and easy (You'll see when you watch the lessons).
And another really nice thing:
Learn At Your Own Pace.
You're In Control Of Your Learning
You'll never fall behind, because there is no schedule to keep up with.

If you can only practice your harmonica lessons 5 or 10 minutes a day, hey that's fine. Believe me, a leisurely pace works - it just takes a little longer. On the other hand, if you want to stay up all night learning with me, that's cool too.

It's completely up to you. And once you own these courses, you can watch them whenever want, so there's never any deadlines.

Best of all, you can get this entire course at a rock bottom price. We're planning on selling these lessons in the near future for as much as $118.
Please Take Advantage Of
My "Special Launch Price"
However, to celebrate the launch -- you can get them all for just $118 $99.
$59 will barely buy you a private lesson or two with a good teacher. But with "Pro Harmonica Secrets Made Simple", you're getting lessons that you can watch over and over.
I actually charge over $100 an hour for studio session work and private lessons. And even if you could fly down to California I could only teach you about 10% of what's on these courses in the same time period.
I honestly feel this is the best harmonica learning value offered anywhere.
Pro Harmonica Secrets Made Simple
Vs.
Private Instruction
I'm not going to knock one-on-one lessons. However: they usually end up costing a small fortune.
And often, most of these guys don't have a SYSTEM. They just teach whatever they feel like that day and create more confusion than solutions.
Now, look at this chart..

As you see, you'll save thousands of dollars by purchasing "Pro Harmonica Secrets Made Simple"
This is a systematized course that will give you the insider secrets you need to play like a pro in record time.
I'd like to make your decision easy. So, here's the deal... If for any reason, (or even no reason at all) you decide this course isn't helping you reach your goals on the harmonica, you can send an email and I'll refund every penny immediately. There's no fine print and no hassles.
You're Protected By My
100% Total Satisfation
Unconditional Money Back Guarantee
There are no strings attached to this offer. I stand behind my work and I know you'll be happy with this course. And if you're not -- don't worry because I will offer you a complete 60-day, no-risk, 100% money-back guarantee.

Order these killer harmonica lessons... watch them... then pick up the harmonica... play a few notes...and then play a song just to prove to yourself that...
You've Become A Really Respective Player
Faster Than You Ever Thought Possible.
If it doesn't happen, simply send me an email and I'll see that you receive a prompt refund of your money, no questions asked.

Am I Crazy? Or is This Course that GOOD?

I can afford to be so generous... because I know the TRUTH. You see... this system really does work! It's amazing, it's almost like magic because it shouldn't be THIS easy and simple... but it is.

Just imagine inviting your friends and family over and blowing them away with some classic songs.

Jaws will drop and respect will be earned. It's up to you whether or not you let anyone know you learned the secrets from me.
It's a no-brainer decision, so please click on the link below, fill out your information, and you'll soon be the proud owner of the "Pro Harmonica Secrets Made Simple" course that will reward you for a lifetime.
Here's how to order. Just click the link below and this will bring you to the order page. Then, just fill in your information and that's it.
So let's get into the fun stuff...
Don't delay -- click the link below right now!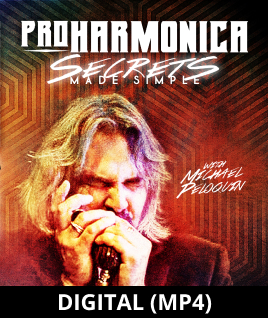 or
Dedicated to your musical success,

Michael Peloquin
P.S. Remember, you're protected by our 60-Day unconditional money back guarantee.
I realize that sometimes you're unsure if you can get a refund from an online company. But that's just not the case here. If you aren't absolutely impressed and delighted with this course, then I don't want your money.
My reputation is my most valuable asset (it took me over 2 long decades to build it). And I intend on honoring any refund requests with zero questions asked. I want you to be 100% happy no matter what.