Dear Guitarist,
Have you ever been frustrated by hard-to-read song books, amateur tabs, and online misinformation?
Do you struggle to "put songs together", or maybe just feel that it takes too long to research and learn your favorite tunes?
Want to quickly learn 10, 20, 30, or even 50 of the most rockin' songs ever, from the 1960s?
I don't know about you, but for me -- I just love the 1960s.
I think probably out of any decade of music produced, the 60s were the greatest.
You've got the Beatles, the Rolling Stones, Jimi Hendrix, and Led Zeppelin first starting to come out. It's probably the greatest decade of rock ever. Don't get me wrong, the '70s and '80s and '90s and even the 2000s are great, too, but there was something that was just really special about the 1960s and the music.
It was a revolution, on all fronts.
Introducing the
1960s Guitar Song Collection.
Let me get right to the point here: I've hired Will Ripley (one of the best guitar teachers I've ever met) to record a truly epic set of lessons (almost 8 hours worth of material) that goes DEEP and teaches you how to play 50 of the best songs ever from the 1960s.
Will is clear in his teaching, easy to learn from, easy to listen to... gives you the right stuff to play, and his teaching has been mega-effective with literally thousands of students.
He goes into all the detail on every song, gives you the easy step-by-step instructions and easy to read chord charts.
It's a REALLY solid course that I'm proud to put the Guitar Control label on.
Who Is Will Ripley?
Since graduating from the Berklee College of Music's program, Will Ripley has been touring, performing and recording with actual rockstars (Members from Jethro Tull, David Bowie & Rev Theory to name a few).
With several acclaimed guitar lesson video courses, Ripley's become a popular guitar instructor. Known for his straight-forward, easy to understand teaching style, Will's helped thousands of students all over the world play their favourite songs and styles.
In the "Ultimate 1960s Guitar Song Collection", Ripley breaks down 50 iconic tracks complete with everything that made the 1960s the most famous decade for music. You'll discover chord strumming, switching chords, hot licks, huge riffs and how to integrate it all into your playing.
Amazing Offer #1:
Get Guitar Song Collection From The 60s, 70s, and 80s for only:
Retail Price: $251
SAVE $104 TODAY
Your Price: $147
Yes! I Want Instant Access

To These Courses
Amazing Offer #2:
Get 1960s Guitar Song Collection for only:
Retail Price: $127
SAVE 15%
Your Price: $97
Yes! I Want Instant Access To This Course
Learn Some Amazing Songs
While Mastering the Guitar at the Same Time.
In the 60s, the birth of rock 'n' roll gave rise to heavy metal, blues rock, and a lot of other cool stuff. It's all here and this collection gives you a huge range of ability just by working through the songs. There's blues... there's rock... there's new chords... there's soloing...
In fact, there's a whole gamut of rock guitar techniques that are totally baked into the songs within this program. I'm talking chords to licks to riffs and everything in between.
Play the Music You Loved
Listening To Growing Up.
Just imagine yourself tapping into the techniques you heard on the radio when you were growing up. Maybe you were a kid when you first started hearing this stuff -- I'm talking about the music you've heard your entire life...and now you're actually going to be able to figure out these techniques..these songs and styles...and play them on the guitar yourself.
How cool is that? For me, this kind of discover is super freakin exciting!
A Huge Range of Songs.
You're gonna love the huge range of songs here. For instance, "On the Road Again" by Canned Heat. The guitar part on that song is incredibly simple. It's like a one-string riff. So that song is perfect for a total beginner, but there's other songs like the one from Otis Redding song where there's a funky rhythm and various chords and stuff. That would be great for an intermediate guitar player. And then there's songs that are more advanced, too.
There are certain songs, "Voodoo Child" for instance, with some really easy parts but also some elements that are advanced and challenging. Not to sound cliche, but "there's something for everyone here".
Enough yapping from me... Here's the list of sweet song lessons you're gonna get:
Besides beefing up your repertoire with great songs, you'll learn all kinds of sweet tricks, like how to make it 3x easier to change chords... plus if you ever struggle with the "F" chord, here's an easier better way.
The "slap strum" technique, works super great on acoustic or electric, it makes your playing much more rhythmic especially when you don't have a drummer.
A great way to do 'hybrid' picking and using more fingers. You'll really start to like it the more you do it.
Another super iconic song that you will love to play.
Slick fretboard shapes to play "6th intervals". This is a must know classic rock guitar technique.
A few different killer strum patterns from the very simple effective , to classic folk strum patterns, to more fancy stuff to get a fuller sound.
Here's a catchy, bouncy riff, and Will shows you one of the most popular guitar effects from the 60s that you can use to make your playing pop with psychedelic pizazz.
How to find octaves on the neck and use them in classic riffs.
How to use muting to make your playing more tight.
Turn heads with this slick intro riff and legato techniques that make your playing flow with smoothness.
Learn the "rolling finger" technique (few guitarists know this trick), plus how to make the notes of a chord sparkle by "arpeggiating" it.
Get that signature Hendrix sound by learning to use R&B chords in rock music. It's really easy because you can "cheat" by using your thumb.
Breath new life into your playing with gorgeous chord inversions.
Want that iconic Hendrix wah wah sound? Will breaks it all down for you; it's easier than you think. Make your notes come to life with "tweak bends".
Break out of the pentatonic box by learning to play diagonally across the fretboard.
If you're talkin' legendary guitar, you can't forget Jimmy page. This tune has the coolest sounding power chord that you can add to your arsenal.
Simple alternative chords that help even the most struggling beginner.
Classic Jimmy Page licks that sounds faster and more difficult than they really are.
Blow minds at the next jam session by combining acoustic and electric parts. (there's a hidden trick to this)
With each song, you'll learn so many useful techniques... For example: unique melody lines, open string bends, funky inverted power chords, are more.
This one's got a powerful driving rhythm that gets everyone on their feet.
Bring any song to life by adding cool bass line riffs into the guitar part.
Nothing screams the Stones like using the iconic "Fuzz" sound. Combine it with a sweet punchy rhythm and you'll be in guitar nirvana.
You're gonna love how smooth your strumming will be after you learn to use the vocal melody to sweeten it up. Will even shows you how to combine the two guitar parts on the track into one arrangement.
Who doesn't love The Beatles? Now you can emulate the bass guitar driven riff for this song on your axe.
The "sweet spot" classic blues shuffle. You can easily create your own jams from this one idea.
In the 1960's, Clapton was the king and you are going to learn his secret pentatonic scale extensions.
How to spice up a riff by playing it on a different octave and even transposing it to a different key.
Want to make a song really come to life? Substitute triads for regular chords and emulate the vocal melody.
You are gonna make this song pop like crazy by emulating the drums with your strumming.
A killer 12 bar blues featuring power chords... you're gonna love it!
This is total ear candy: learn to incorporate blues licks in between chord changes.
Did you know that you can use alternative chord voicing to make a chord progression easier? Will breaks it all down for you.
Want to make your own version of a song to give it your signature stamp? This is pure gold!
The walking bass line the soul of the blues and now you'll be able to use them in your guitar riffs too.
Adding chromatic walk ups into chords is going to give you the "OH YEAH" sound.
A great melody is even better with a sweet harmony and when you can do them together with "double stops" it's some genius guitar playing.
Liven up your rhythm playing with percussive "chucks".
When you think of the sound of the 1960's you can't help but to think of the Hammond Organ and Will is going to show you how to play those licks on your guitar.
Want the classic Rock & Roll sound? You're going to learn how to get it by mixing the major and minor chord voicing.
Nothing gets people dancing like this tune and you're gonna learn the sweet funky rhythm that is a staple in the sound of this song.
This funky hammer-on chord riff is sure to put a smile on your face.
Heads are gonna bob when you jam this funky percussive rhythm.
You will be a believer when you jam this sweet organ riff on your guitar.
Do you have problems getting your licks to sound smooth? Well not anymore after Will shows you the best technique to sound like a pro.
Get a snappy sounding rhythm by learning to disengage chords.
This simple trick will turn your barre chords into killer sounding power chords.
Turn your head bobs into a powerful tool for some sweet strumming.
Learn to use dominate chords to emphasize movement.
All Day & All Of The Night
Grab everyone's attention with this classic sliding chord riff.
If you struggle to change chords quickly you're gonna love this cool trick to change chords in time without missing a beat.
I Heard It Through The Grapevine
Double your chord knowledge. You'll get a method for generating new "7th chords" and getting them into your fingers in record time.
The lead singer is gonna love you when you learn to accent your rhythms. It creates a fat pad for the vocals.
This tune is all about the "fuzz" and Will is going to show you exactly how to dial it in.
The "hybrid picking" technique is going to make you sound smoother than a shot of old fashioned Kentucky bourbon whiskey.
Learn to use the major scale to connect chords with a melody. This is how you go beyond just playing what a teacher shows you, and start really understanding how everything connects together.
A lot of guitarist struggle with bending, but not anymore after Will shows you the pro way that has helped countless students.
Breath life into any song when you learn to use alternate chord voicing.
This sweet arpeggiated picking pattern will make you sound like a real guitar hero.
A sizzling hot hybrid strumming/arpeggiated pattern that is delicious to hear and play.
You're going to love the tangy sound you get when you learn to substitute that plain old C major chord with Cadd9.
A simple strumming technique that works like gangbusters every time.
How to eliminate "chord lag", and what you need to know to transpose a song into a different key.
No Particular Place To Go
How to sound like Chuck Berry. This rhythm style is going to make you sound like a rockstar in record time.
Forget fret hand fatigue. Avoid this pitfall with Will's "start/stop" technique.
A secret combination of 2 different scales that is one of Carlos Satana's biggest factors to sounding like a lead guitar god.
Man oh man... I love Neil Young and that classic sound he brings with drop D tuning. Will takes all the confusion away and gets you rockin' this tune in seconds.
You're going to impress your friends and family with these easy one finger chords.
Papa's Got A Brand New Bag
FUNK it up... Get everyone's head start bobbing... especially when you start emulating some sweet horn lines on your guitar.
You gotta know how to use the "tritone" method to playing spicy funk chords. (it's easier than it sounds)
Frustrated with your capo? Not anymore after Will shows you what most beginners get wrong.
Take your playing from "amateur hour" to the pro sound with a cool punchy accent rhythm.
With A Little Help From My Friends
We all need a little help and your friend Will is going to help you to sound like a seasoned guitarist with these killer "unison bends."
Take your strumming skills from "good to great" by learning to control the dynamics... this one is easy to master.
If you want to stand out from other guitarists you gotta know the "scrape" strumming technique.
The best way to get a genuine rock and roll vibe in your playing is to know the key places to do your chord variations. Will gives you the simple formula that works every time.
Hendrix Secret Sauce: make your chords sound more complex with these "flicker" notes, few guitarists know this trick... plus how to add "nines" into your licks.
Big chord progressions can be frustrating... but not after you learn to simplify them with some simple barre shapes.
One of the most misunderstood techniques is palm muting, but Will gives one of the best explanations I have ever seen.
Spice up bland and boring single note rhythms with some hot sounding shuffles.
To really make a song sound pro you have to adjust your strum pattern to follow the vocal melody. This trick is huge.
You won't want to put your guitar down after you learn these classic Duane Allman licks.
If you're like me, you love hearing Ray Charles play the piano, but you're gonna dig it even more on guitar.
You won't believe your ears when you learn some more exotic sounds such as the Diminished chord.
Everyone can agree that when it comes to the wah wah, Hendrix is the king and you're going to "download" these potent wah wah licks directly into your fingers.
Another "must know" funk chord your ears will go bonkers for.
This simple hammer-on barre chord trick will take you to the pro zone.
You are going to be the envy of the next jam session when you tear it up with this cool diatonic chord sequence.
Whether you prefer the classic Otis Redding version or the Black Crowes version, this is a must know track.
Classic pentatonic riffs will make you sound as smooth as silk.
Any musician worth his salt will tell you it's all about playing in the pocket. Here's how to do that.
This iconic organ line sounds so sweet on guitar... plus you can take this classic tune to a whole new level when you learn this powerful blues lick that substitutes for a chord in the progression.
Kick your playing up a notch with this rockin' shuffle over the 1-4-5 chord progression.
This cool riff was originally played on a baritone guitar, but don't worry, Will is going to show you how to play it on the guitar you already have.
Man I love Pete Townshend's guitar style. You will too after you learn these killer signature chords that hardly anyone else uses.
You will breathe new life into the chords you already know when you master how to "suspend" them.
The Allman Brothers have such a signature sound and you will be able to capture it when you learn to play this funky bass line with an unusual rhythmic pattern.
Your playing is going to flow like water when you learn the legato technique.
Forgot your capo? No problem, Will teaches you how to play this classic with and without one.
You are going to make them smile when you learn to play this sweet sounding chordal melody.
You will have everyone doing the "arm wave" dance when you jam this classic surf rock tune.
"Surf guitar" is all about speed and Will shows you exactly how to get speed and control. Plus how to dial in that classic surf guitar tone.
The "claw" fingerpicking technique is going to give your playing a whole new level of awesome.
Adding these walking bass lines to your chord changes is pure ear candy.
Want to conjure up a "magical" sound out of your guitar? That's exactly what you will get with this simple Capo trick.
This little known fingerpicking trick will make you sound so smooth your friends will be amazed.
Amazing Offer #1:
Get Guitar Song Collection From The 60s, 70s, and 80s for only:
Retail Price: $251
SAVE $104 TODAY
Your Price: $147
Yes! I Want Instant Access

To These Courses
Amazing Offer #2:
Get 1960s Guitar Song Collection for only:
Retail Price: $127
SAVE 15%
Your Price: $97
Yes! I Want Instant Access To This Course
Remember Why You Started
Playing Guitar In the First Place?
Think back... to when you first started playing. What was that spark of inspiration?
Everyone starts out because they dig a certain genre... or there's an experience you want to have...or maybe you just freakin love music.
If you can tap into that feeling, even just a little bit, it's gonna get you re-motivated and toked to play. That's the key to enjoying the guitar.
And the really big key is to play songs you love in music styles that excite you. That's what this program is all about. There's 50 songs from what's possibly the best decade of rock music. So I know you're gonna find some music in here that will just genuinely excite you and get you pumped.
Don't Worry... You Can Do This.
Sometimes players get frustrated with the technical stuff like being able to switch chords, being able to get control over your fingers, or rhythm and strumming. Also motivation and dedication is another big challenge and frustration you might have...
Or maybe you don't know what to practice and how long to play and what to focus your energy on.
But if you can find those songs and riffs and licks that kick-start your motivation, I promise you'll be ripping and roaring...especially when a great teacher like Will makes it super simple.
This is What It Feels Like to Be
a 1960s Rock Star.
I just want to point out again that you'll not only learn some classic tunes that everyone loves, but you'll also conquer the techniques, the technical aspects and the physical aspects of playing guitar.
Think of this course as a "deep dive" into technique, theory, and the physical elements of playing guitar. All the blues-based stuff, chord changes, theory, soloing, riffing, playing awesome classic songs....it's all here.
You're gonna tap into some great vibes, feel for yourself what it's like to plug into those songs, and access a little bit of what it feels like to be a 1960s rock star.
Will Has Helped Thousands of
Guitar Students of All Ages.
Will Ripley might be the perfect teacher to help you start rocking fast. He's developed guitar systems that have been effective with thousands of people.
Also, he's a successful musician in my own right and has performed for up to 10,000 people while touring and sharing the stage with notable rock stars.
But also, check this out: Will told me:
"Claude, I think the biggest thing that separates as a teacher is that not only have I tapped into actual rock star experiences, but I'm also a slow learner. So it was a really long, hard road for me when I was learning guitar and learning some of these techniques and stuff. I was just like, man if I were to teach this I would change it a lot. So that's how I've developed a lot of my teaching. My teaching strategies are kind of breaking things down so that it's as easy to attain as possible. People are often really grateful for that breakdown that I give them. So it's just about bridging that gap between a beginner and tapping into those awesome rock 'n' roll vibes. I think I can bridge that gap pretty easily and I've proven it in the past."
This is for Anyone Who Loves Classic Rock.
I think this program is a no brainer to get. Basically it's for any guitarist that is into classic rock.
If you want to play guitar and you like classic rock, I think that you should get this program. I think it's just as simple as that. lol.
Whatever you want to call it: classic rock, rock 'n' roll, blues-rock, classic rock... I think if you appreciate artists like Jimi Hendrix, the Doors, Led Zeppelin, and so on, then this program is right up your alley.
This Course Is Super In-Depth.
The only reason I can think of why you wouldn't want to invest in 50 song lessons from the 1960s is that maybe you aren't aware of how complete this course is.
It's 8 hours of content. This isn't little 2 minute lessons per song. It's DEEP and each tune has a PDF.
I just want to make sure you know it's a very complete course. It's going to make you an unstoppable beast on the guitar :)
Start Rockin' Now.
Let's get you rockin'... Seriously.
I think the dream goes back to just loving 1960s rock and being able to experience what it's' like to play rock 'n' roll guitar... plus tapping into the vibe from Jimi Hendrix and all those 1960s greats.
You'll get some powerful tunes under your belt.
Don't Miss Out on a Chance to
Invest in Yourself.
I think that when people want to play guitar it's usually something that they've wanted to do their whole life or they've already been doing it for a long time and they've only gotten so far.
The biggest nightmare is being stuck as a beginner guitarist for the rest of your life and never being able to access the techniques, the songs and those feelings of what it's like to become a solid player.
Also, this course will give you such a broad palette of skills on the guitar that when you go to learn other songs and other genres that you're just going to have such a good foundation of all these important guitar skills that, it's going to be so much easier to learn other songs.
Where Else Could You Learn
These Guitar Secrets?
You might not ever find a guitar teacher with half the legendary experience Will has, so it's not really fair to compare buying these guitar lessons to your average private teacher. But if you could find a great teacher, how much do you think they'd charge you to sit down with you and teach these 50 songs?
OR... Just think how much time it would take you to google each of these songs, find inaccurate tabs, watch live performances, and try to piece these arrangements together yourself. Your time is PRECIOUS. Certainly worth much more than the $3/hr (at best) that it would take to try to put this together for yourself.
Quite simply, this is hands down the easiest and fastest way to master a great repertoire of classic songs.
If You Love Playing Guitar,
Then Owning This Course Is A "No-Brainer".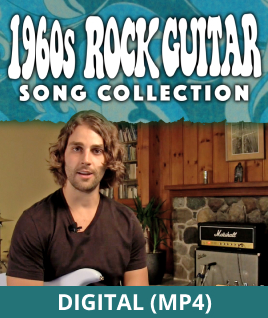 I know it might sound like a big claim, but this course really is one of the fastest shortcuts possible to quickly mastering an impressive repertoire of killer songs and becoming an accomplished guitarist as fast as humanly possible.
Right Now You Are At "The Crossroads".
You Have Two Choices...
1. Continue doing whatever you're doing now and in 3 months from now, you'll probably be about as good as you are right now. You'll look back and scratch your head, wondering why you're in a rut.
OR...
2. You can grab the 1960s Guitar Song Collection, dramatically improve your guitar playing while mastering a whole bunch of sweet songs. You'll take your chordal chops, your strumming, and your overall guitar power up about 3 levels to the "can't-wait-to-play-it-again" zone. You'll get dozens of fresh ideas and whole tunes you'll love to play over and over. Your playing will never be "vanilla" again.
This is it, my friend... the 1960s Guitar Song Collection is your ticket to being able to call yourself an honest to goodness accomplished guitar player.
If you have even the slightest hesitation or doubt on ordering these guitar lessons today, I want to put your mind at ease and truly take all the risk off your plate. I'm gonna hook you up with what is surely...
The Craziest Guarantee In The World!
Order these awe-inspiring guitar lessons... grab your guitar... follow along with the easy strumming patterns... and before you know it, you'll be playing some of your favorite songs, faster than you ever imagined.
If it doesn't happen, just send us a quick email and I'll see that you receive a prompt refund of your money, no questions asked.
Its my way of doing everything humanly possible to put your mind at ease so I can earn your business and put these awe-inspiring guitar lessons into your hands today.
You Have Nothing To Lose,
And 50 Classic Guitar Songs To Gain...
The special launch dealio won't be around forever. More importantly, do it for yourself. Treat yourself and put these killer guitar lessons into your hands today. You deserve it. Life is too short not to enjoy the guitar and these digital course are going to help you do just that.
Go ahead, and order yours today.
Amazing Offer #1:
Get Guitar Song Collection From The 60s, 70s, and 80s for only:
Retail Price: $251
SAVE $104 TODAY
Your Price: $147
Yes! I Want Instant Access

To These Courses
Amazing Offer #2:
Get 1960s Guitar Song Collection for only:
Retail Price: $127
SAVE 15%
Your Price: $97
Yes! I Want Instant Access To This Course
Get ready to rock,


Claude Johnson
P.S. If you fell asleep at the computer or just scrolled down to the bottom of this letter, I'll sum it up for you real quickly: This guitar course is going to give you an incredible repertoire of tunes using nothing more than basic beginner chords and simple strum patterns. It's the #1 way to play some of your favorite songs as fast as humanly possible.
In addition to the songs, you'll enjoy a whole slew of new techniques, tricks, tips, ideas, and a whole lot more. If you love guitar or you've always to rock, I promise this will become one of your favorite resources you'll go back to again and again.
It's an incredible learning value and backed by the strongest guarantee imaginable.